August 2004 : Vol.1 - Issue 9
Quote: Whatever you can do, or dream you can do, begin it--Goethe

Top Stories: -
Protecting NGO interests? The Maharashtra State Law Commission in its XIIIth Report made in October 2003 on the Public Trust Act, 1950 recommended far reaching amendments which could change the complexion of NGOs.
Pre-mariage vows Should HIV testing be made mandatory for all coup[les before marriage- we bring you two views about this controversial issue.
What is private? A film screening in Bangalore brought out certain issues about freedom of the media- can uncensored films be shown at private film societies and also the whole question of censorship of documentaries that focus on issues uncomforatbale for some.
No joking matter We're appalled at the flippancy with which delegates have discussed the most serious issues of biosafety. Although they've practically admitted that our worst fears are a reality, they have been dismissive about them, and continue to plow ahead relentlessly."
GiveIndia, announced the first list of 75 NGOs that are 100% compliant with the minimum and the desirable norms of the Credibility Alliance.
Insurance for domestics An enterprising company and an imaginative entrepreneur have an insurance scheme for maids and domestic help
Sikkim and now Mizoram become totally organic: Confounding their worst critics and skeptics, two small states show that committed leadership and the will to work pays as they stop using inorganic fertilisers etc. and get booming exports.
Business World's CSR awards: From development of an entire village to raining and water harvesting, this year's awards were won by Lupin., Canara Bank and Gujarat Ambuja for their various development programmes.
Media Books oncivic issues, gloablisation and Narendra Modi; poster sets for women's and childrens health issues and films on Water
---
Protecting NGO interests : -
Recently, an event occurred whose ramifications, if accepted would have made all NGOs into semi GOs. The Maharashtra State Law Commission (Commission) in its XIIIth Report made in October 2003 on the Public Trust Act, 1950 recommended far reaching amendments to the Bombay Public Trust Act 1950. Briefly the major changes that were recommended by the Law Commission were

a. Adoption of uniform constitution for each public trust in the State.
b. Making of election compulsory for appointment of trustees of the public trust from amongst the members that would be enrolled.
c. Appointment of a Government Servant as a Chief Executive Officer on each public trust having annual income of more than Rs.5.00 lacs
d. Automatic cancellation of transaction of sale or lease of immovable property covered by section 36 of the Act upon revocation of a sanction by reason of fraud or misrepresentation in obtaining the sanction.
e. Mandatory inspection every three years.

The basic assumptions on the basis of which the Commission felt impelled to recommend these major changes are that, according to them, there are many public trusts that are malfunctioning and the provisions of the Act are inadequate to discipline such trusts and to safeguard their interest:

The assumption that governmentisation and/or govt. interference is a cure for all wrongs is an unacceptable myth. The cure recommended by the commission is worse than the disease.

"It is submitted that the entire report of the Commission is based on the wrong assumption that the recommendations if implemented would increase charity benefits and ensure better administration. Government control breeds many evils. It retards growth and is detested when such control is perceived as unjustified. This may drive away many charitable activities out of the state, and dampen the urge for fresh charity, at least in Maharashtra."

The Indian Merchants Chamber at a Press meeting addressed by Mr Popat of Mulla and Mulla, solicitors stated that they were assured by the Chief mInister of Maharastra and the Law Minister that no hasty steps will be taken on this receommendation and every step will be taken to ensure that Trusts viewpoint is duly considered.

The trusts were shocked at the usurpation of their powers without giving any guidelines as to why these recommendations were made without any valid reason. The wishes of the settler of the Trust had to be honoured as his property.

The NGO community owes a debt of gratitude to the IMC and others who took up this matter. However, they have to be vigilant and ensure that their position is not weakened by the government.

Top
ISSUES: Pre-marriage vows: -
HIV and marriage
Should HIV testing be made mandatory for all couples contemplating marriage? Here are two viewpoints.
"At the risk of sounding naively idealistic, I feel that making a law that specifically addresses HIV and marriage is a huge step against fighting the stigma associated with HIV. I understand the practical difficulties within many Indian traditions that can interfere with the implementation with this law, but at least it may be inplemented in a few cases. For the rest of the people, at least HIV has become an issue. This law would be a big step in making people realize that HIV is not a disease of "others" but rather one that knows no boundaries and can affect our own brothers, sisters, friends, and family.

On the other extreme, the law may be completely disregarded and be one that is fully ignored. Even such a senario, I think, will not minimize the issue of HIV. The point is that the government is recognizing the gravitiy of the epidemic in India. Just because a law cannot be properly implemented in all the present circumstances, does not mean that it should not be passed.

Rohini Khatri E-mail:rohinikh@yahoo.com

"In a country like India where corruption and fake certificates are as common as poverty and unemployment, is there any guarantee that individuals (or their families) who want to get married won't go for quick fix solutions of procuring false HIV negative certificates instead of going through the trouble (according to many) of getting oneself tested.
Most parents and families are too proud of their children's and their own moral values, to believe that their children can be at risk to HIV or may be infected.
With regard to the bride's family (especially from lower and lower middle class families) would they be ever able to ask a prospective grooms family to tell them the HIV status of their groom? And law can't do much about it unless the bride's family complains (as often seen in cases of dowry related problems) and that may hamper the chances of the girl finding a groom. And in addition prospective couples would have to go through confirmatory tests which will take so may months (those who cannot afford PCR tests) and hence will postpone the marriage date which is problematic for many families
Inspite of all this would there be any guarantee that either of the couple would be faithful after marriage (after being tested HIV negative) or that they won't practice high risk activities?.
The law makers will have to keep all this in mind in order to implement a proper law and to me it seems a very tough job. But of course there should be laws which can be implemented easily in order to discourage and punish people who intentionally infect others.Lets hope we can work out this fine balance

Anupam Hazra E-mail: anupamhazra23@yahoo.com
Top
Films for Freedom : -
Bangalore.
What turns a film festival into a private screening? Right-wing hysteria, the clout of the CBFC and state machinery that completely ignores you. Films for Freedom Festival, Bangalore was a victim of this fray. But the offshoot of Vikalp - Films for Freedom 2004 (held parallel to the Mumbai International Film Festival early this year) stood its ground as a "say no to censorship" festival. The scheduled opening film was Rakesh Sharma's critically acclaimed Final Solution, which was awaiting the CBFC'S
clearance. This film, which talks about the violence in Gujarat, was at the centre of the maelstrom. Phone calls were made to the organisers and threats issued that they could only screen those films that have certificates. Filmmakers and organisers, Alternative Law Forum and Pedestrian Pictures, maintain that it was definitely an agenda to keep one film out since the other non-certified films were not fussed about.
The inaugural became a huge ruckus with right-wing demonstrations. Eventually, the opening film was Sanjay Kak's Words on Water. But the management of the venue, JSS Auditorium, asked for a permission letter from the government stating that it could continue. After the organisers made the rounds of the bureaucracy, the letter that was finally issued stated that only certified films could be screened.
The venue was shifted to the All India Trade Union Congress office on the invitation of the Campaign against Communalism. It was a private screening for invitees only. Films for Freedom was definitely a success; the tiny AITUC hall was packed. The issue of censorship's relevance in today's world was discussed. But a large number of people lost out on watching some very powerful documentaries because of the right-wing hysteria. Final Solution, however, was screened, even amidst threats of arrests.- Chinmayee Manjunath
Top
Gene Revolution No Laughing Matter, warns Greenpeace : -
New Delhi: Greenpeace activists were the first to greet delegates arriving at the FICCI auditorium on August 10 for the inauguration of the three-day conference 'Agricultural Bio-technology - Ushering in the Second Green Revolution'. The group of activists, held a banner that said 'Gene Revolution – You MUST be joking!' "There is no doubt that Indian agriculture is in a state of crisis. But it is laughable that this closed-door conference should consider GE as the solution," said Divya Raghunandan, GE Campaigner, "World over, GE has been condemned for depending on the outdated, over-simplistic understanding of science."

The international conference delegates confirmed Greenpeace's stand that GMOs are out of control. About the three-day conference co-organized by the Federation of Indian Chambers of Commerce and Industry (FICCI), ISAAA (International Services for the Acquisition of Agri-biotech Applications) and MS Swaminathan Research Foundation (MSSRF), Divya Raghunandan, GE Campaigner, Greenpeace India, said, "We're appalled at the flippancy with which delegates have discussed the most serious issues of biosafety. Although they've practically admitted that our worst fears are a reality, they have been dismissive about them, and continue to plow ahead relentlessly."

Greenpeace is also drawing attention to the increasing influence wielded by profit-seeking multinationals. These multinationals are notorious for patenting Indian wheat, contaminating soya in Brazil and Maize in Mexico and ultimately being forced to abandon their GM wheat. "We face the very real risk of contamination of non-GM crops during field trials; there's evidence of increasing corporate control on agriculture furthering farmers' impoverishment; and there will be irreversible impacts on our biodiversity if GM crops are allowed."

Contact: Divya Raghunandan, GE Campaigner, Greenpeace India: +919845535406 draghuna@dialb.greenpeace.org Namrata Chowdhary, Media Officer, Greenpeace India: +919810850092namrata.chowdhary@dialb.greenpeace.org

Top
GiveIndia certifies "Credible" NGOs -
Ahmedabad: GiveIndia, announced the first list of 75 NGOs that are 100% compliant with the minimum and the desirable norms of the Credibility Alliance. These are 75 non profits from 11 states of India, working in areas such as Education, Livelihoods, Health& Sanitation, Disability, Women's Issues, etc.The 75 NGOs that have complied with all the norms have "demonstrated very high commitment towards transparency and accountability".

With growing budgetary allocations for development and welfare activities, concerns about implementation effectiveness and "how much will eventually reach the end beneficiary" have grown, too. The Credibility Alliance, which is a national consortium of nonprofit organisations, was therefore set up to establish a consensus-driven set of "credibility norms" for the voluntary sector in India.

The norms of the Credibility Alliance are gradually becoming an "industry standard" for the nonprofit sector in India. They have been accessed by over 15,000 non-profit organisations and endorsed by over 1,500 of them over the last 3 years. The norms require NGOs to make several disclosures about their board members, governance, financials and also document certain policies to institutionalise good practices.

GiveIndia is one of the key initiators of the Credibility Alliance. The minimum and desirable norms of the Credibility Alliance form the core of GiveIndia's criteria to screen non profits. Many NGOs have welcomed this alliance. Contact Ms Pushpa Aman Singh, VP- Programmes City Centre Udhana - Magdalla Road Surat - 395 002 Gujarat E - mail : venkat@givefoundation.org Website : www.givefoundation.org
Top
Insurance for Domestics: -
Mumbai: Maidservants in Thane need not turn to their employers for monetary assistance now. A group insurance policy worth Rs 10,000 is here to help them out in emergencies like illness, death in the family and accidents.
Akshay Jeevan Sanstha
, had proposed the scheme to
Birla Sun Life Insurance
in Dec 2003. "We welcomed the idea as this was the first time that group insurance for maidservants was being introduced by us," says Moon, an executive with the insurer.
The scheme was implemented on Jan 27 and nearly 150 women from Koknipada, Gandhi Nagar and Lokmanya Nagar have been covered under it, says Dr Prakash Shendharkar, chairman of Akshay Jeevan Sanstha.
"The policy, which matures in one year, is worth Rs 10,000 with a premium of Rs 100, to be contributed equally by Akshay Jeevan Sanstha and the insured woman. "We have started this on an experimental basis and will expand to other areas later," says Mohite, adding, "The premium can be reduced if more women are introduced into the group."
Contact:

Akshay Jeevan Sanstha officials
Dr Prakash Shendharkar -- 9869034250
SM Mohite — 9821889090
Top
First Organic states : -
Mizoram :The resolve to rid agriculture of chemical fertilisers and pesticides, expressed by Sikkim an year ago, has been given a shot in the arm by Mizoram. The state made history by becoming the first in the country to legislate for turning its entire agricultural produce organic.
It passed the Mizoram Organic Farming Act, 2004 on July 12, 2004. Sikkim is yet to pass a similar legislation. Mizoram has only done what the Union government has always prescribed in its National Programme for Organic Production (NPOP), launched four years ago, but never really practiced.
When Mizoram governor, A R Kohli, announced the state's intention of going organic three months ago at a seminar in Delhi, critics questioned the ability of any state to completely do away with the usage of pesticides and fertilisers. But the two states are anyway among the lowest consumers of pesticides and fertilisers in the country.
Only about 25 per cent of Mizoram's cultivators use chemicals in their crops. O P Singh, director, ministry of agriculture, Mizoram said, that too primarily for rice and vegetables grown in plains. People don't use fertilisers and pesticides even for the rice grown on hills. Our passion fruit, turmeric, ginger, orange and pineapples are completely organic. So is chilly, sesame and hill potato.
Singh also points out that the move towards organic is not sudden in the state. In 2000, the Mizoram government had removed subsidies on fertilisers and pesticides. It also controlled their private sales by making licensing compulsory.

The challenge for Mizoram now would be to get its organic produce certified by accredited international agencies. This is the only way for the produce to command a premium price in the global market. The state has legislated certification and accreditation under the Accreditation Regulations 2001, as per the NPOP.
Top
BW-FICCI CSR AWARD WINNERS: -
WINNER No.1 : LUPIN .....In the last 14 years since it was set up, LHWRF has put up 125 schools (either singly or with government help), provided for drinking water facilities in 80 villages and helped 25,000 people cross the 'poverty line'.

At the heart of Lupin's corporate social responsibility model lies the idea of convergence. "We put in some money, the government some more and the local community that benefits puts in the rest," says Gupta. So far, some Rs 100 crore has been sunk in development projects. Of this, Lupin has invested Rs 10 crore, the villagers Rs 20 crore and the government—both state and centre—the rest. "The private sector, because of its profits orientation, is able to both leverage funds and also use them efficiently," says Subodh Agarwal, Bharatpur collector and district magistrate.

Gupta's model is simple. He first created a local body at the village level, typically 11-21- members strong depending on the size of the village. The village chooses the members of the local body; it's mandatory to have women and scheduled caste and scheduled tribe representation on it. This local body figures out what is of priority there and LHWRF delivers that. Suita Ram Gupta, ex-assistant engineer of the Rajasthan State Electricity Board today heads Lupin Human Welfare and Research Foundation (LHWRF), an NGO run by Lupin. Lupin does such work in Maharashtra, Madhya Pradesh and elsewhere in Rajasthan,

WINNER No.2 : CANARA BANK.....each of its 47,000 employee donates three rupees per month to a social cause of their choice—Rs 16.9 lakh annually. And that's outside of what the bank spends on CSR annually: roughly Rs 10 crore or 1% of its profits. . Its main thrust is on giving vocational skills to unemployed people. Canara Bank general manager (priority credit wing) R.Prabha, who overseas the CSR programme, says the trickle-down effects is enormous. Since 1988, he estimates the bank has trained 1.30 lakh people. One big initiative is the Rural Entrepreneurship Development Institutes , where the bank has partnered the Syndicate Bank and the Dharmastala Manjunathehwara Educational Trust to set up 20 vocational training centers across India. Then there are the projects it does alone –like artisans' training and computer literacy.

Maruti, a 14-year-old boy from Utter Pradesh, learns, to carve wood at the KPJ Prabhu Artisans Training, Production and Marketing Center at Jogaradoddi near Bangalore. The bank feeds him, clothes him and provides shelter

WINNER No.3 : Gujarat Ambuja Cements.....touching the lives of 4.5 lakh people in nearly 300 villages. ACF does not associate itself with ' corporate philanthropy'. Haribhai Mori, senior manager, ACF, says: " Charity… makes the stakeholder of a project complacent. Every project that we have involves some contribution by the stakeholders." Part of the Rs 3 crore—5 crore it mobilises every year comes from GAC and the rest from the government and other trusts.

ACF projects are simple and need-based. So, water harvesting gains priority in Saurastra, a drought prone area. The projects also aim at generating self-reliance. In Bhuj, ACF did not 'adopt' any village during the earthquake rehabilitation. Instead, it is set up masonry camps so local could build houses—and have a career option. Recently, the Gujarat Salinity Cell invited ACF to work with it after ACF cleared 12 wells near the coast of saline water. But ACF's biggest success story is that of Hunny Saini, a mentally-challenged girl. Teachers at ACF's special school in Ropar encouraged her to take up sports. And earlier this year, Hunny won a gold medal in badminton at the Dublin Special Olympics.

BOOKS
Understanding our civic issues (9 booklets)
Language: Hindi
Published by Bombay community Public Trust
Price : Rs 101 voluntary contribution

Available at BCPT
During last year, one of the new initiatives of the BCPT was raising public awareness on issues facing the city and encouraging people's participation in the development of the city. Towards this end, they collected and developed a range of information about the city. Amongst these was a series of booklets on "Understanding our civic issues" which was recently released by Mr Johny Joseph, Municipal Commissioner. The series consist of nine booklets, which provide information on several issues affecting Mumbai city and its citizens relating to solid waste management, bio-medical waste management, sanitation, water supply, healthcare, open spaces, travel safety, care of senior citizens and early education of children. The booklets have been written by activists, academicians and journalists and, address both infrastructure and human concerns. The focus of the texts is on facts and different facets of the issues giving the reader a sense of the dimension and complexity of the subject

Contact: Ms. Harsha Parekh (Executive Trustee) / Ms. Dinaz Parab ( Project Executive), Tel: 2284 5928 Email: bcpt@vsnl.com
Top
Media: -
An Unfinished task- Globalisation and the tribal people: Experiences of activist Navleen Kumar
Publ: Women networking drtc@vsnl.com
Pages:60
Navlen Kumar worked to restore the land rights of adivasis/tribals on the outskeirts of Mumbai and had successfully protected and restored adivasi land through sustained legal interventions. She also taught them a new way of life. Dedicated to her, the book takes look at the problems faced by the adivasis just outside the metropolis of Mumbai. It details legal cases, the reasons behind the sudden interest in their lands with the onslaught of globalisation. It also gives suggestions on how the interests of the poor can be re-gained from those who wish to exploit them. Jaya Menon and her team have fought these legal battles with Navleen and their knowledge about the "system" has been well documented. A Trust- Satya Vijay Pratisthan" now carried on Navleens work with Gandhali Naik stepping into her shoes.
Modi slapped
Pages: 104
Published by: Shramik Pratisthan, Kolhapur
Price: Rs. 50/-
It is not possible to exaggerate the significance of the judgement delivered by the Supreme Court in the Best Bakery case. Its significance is manifold. The SC gave a landmark judgement however the most important aspect of the judgement is that it restored the faith of the Indian people in the judiciary. The articles in the book come from distinguished persons like Justice PBSawant who discusses the "Travails of the Best Bekery Case:, Teesta Setalvad on "Faith Redeemed", "A trend-setting judgement" by Justice Hosbet Suresh (Retd.) and a "Question of Justice" by KG Kannabiran of PUCL. These front the publication of the entire judgement which is given in the rest of the book.
For copies contact New Age Printing Press, Tel. 24228222
Forced Separation: Children of imprisoned mothers
Publ: Prayas ipw@vsnl.net
Pages:192
Price: Rs. 150

A woman prisoner (
either unconvicted or sentenced) is legally permitted to keep her children below the age of 5, with her. This book examines what happens to these children- in or out of prison when their mothers are in prison. Who looks after them, what are their feelings? Do they visit their mother and how do they feel? What is the role of the police and the State regarding these children.
In a very easy reading style, the book deals with a segment of society that is generally forgotten…and that is why this book is welcome.
Family care in HIV/AIDS: Exploring Lived Experience
By: Premilla d`Cruz IIM, Kozhikode
This book vividly describes family care in HIV/AIDS through the lived experiences of caregivers and care receivers. It contributes to our knowledge not only because of the contemporary relevance of family caregiving, but also because of its focus on HIV/AIDS which, being a relatively new disease, is little understood yet poses unique challenges to families due to its stigmatising, long-drawn, debilitating and terminal nature. Based on a study conducted in Mumbai, Family Care in HIV/AIDS captures the lived experiences of 10 caregivers and seven care receivers belonging to diverse socio-economic groups and traditional as well as non-traditional family settings.
Overall, the book provides valuable insights into a range of important issues related to caregiving in family settings while identifying areas for intervention and further research. In addition, it overcomes many gaps identified in the substantive area of family care by Western researchers. Check
http://www.indiasage.com/browse/book.asp
New Additions-Avehi

Posters-Jeevan Nivada, Tambakhu Nako !
Choose Life, Not Tobacco !
In this series of six posters the first three use colour photographs which very effectively bring out the damage caused by tobacco – cancer of oral cavity, throat , lavyax (vocal box), oesophages (gullet). The next three posters is that the choice is yours – to give up tobacco or accept cancer
Col / 6
Languages: M
Suggested Audience: School Students -For All
Source: Ministry Of Health & Family Welfare Dept, Govt Of India.

Posters-Breast Cancer
Gives basic information about breast cancer which every woman should know. Its incidence , most comman risk factors, signs and symptoms, additional tests to confirm the diagnosis , easy ways to lower the risk of breast cancer, easy and early ways to detect breast cancer, breast self examination
Col / 5
Languages: E-M
Suggested Audience: Women - For All
Source: Dept of Preventive Oncology, Tata Memorial Hospital

Flashcard-Stan Ke Karkarog Se Mukti
Flipchart about Breast Cancer – causes / prevention of breast cancer signs and symptoms / self examination of the breast / investigation / treatment.
Col / 13
Languages: H
Suggested Audience: Women - For All
Source: Dept of Preventive Oncology, Tata Memorial Hospital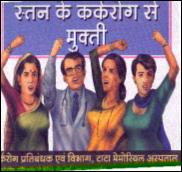 Video-Nako Garbha Ling Pariksha
(Viniyaman Ani Durupyoga
Pratibandh Kayada-1994)
This film discusses the topic of sex determination test, its use and misuse. Through a dialogue between a lady doctor and student nurses, the topic of sex determination test is discussed and explained in detail and in a simple way. Indications for sonography and medical termination of pregnancy (M.T.P) and legal aspects of issue are also discussed.
Col / 27 mins
Languages: M
Suggested Audience :Health Workers-Community Workers –Women –For All.
Source : Maharashtra Shasan Arogya Vibhag , Pune

Posters-Campaign Against Domestic Child Labour
Seven of these nine eye-catching posters could be viewed in any order and would still tell a story of the deprivations and injustices girls face as under age domestic workers. Their vulnerability and their virtual invisibility have been described. The unemployment of their parents has been given as the reason for this.
One of the other two posters makes an appeal for protection by the law and for employment for their parents .The last poster simply urges the viewer to 'Join Hands' in the Campaign Against Child Labour
Col / 9
Languages: H
Suggested Audience: Child labourers -Activists-For All
Source : Ms. Sarita Pungalia
Contact avehi aavrc@vsnl.com, tel. 2402 3032

FILMS
CED now has an LCD projector
Bangalore: In order to make this facility available at a really low cost for showing educational and developmental documentaries, CED is offering one hour screenings at CED at Rs. 300/-.
Screening timings: 11 am to 12 noon & 4.30 p.m. to 5.30 p.m. on CED working days
ie.Tuesdays to Saturdays.
Place: CED main Library Hall, equipped with projector, mike, amplifier.
It can comfortably accommodate around fifty persons. But we have had screenings attended by over 150.
For showings and further details, contact cedban@doccentre.org
"Virus No 1"
A film made by Ramchandra P. N.
10 minutes / Documentary /
English-Hindi-Gujarati /English Subtitles
Avilable in VCD and VHS formats
Producer: Sonk Films
Participation in Film Festivals: The Conograph Documentary Film Festival in The Republic of Moldova,2004

Synopsis: "Virus No 1" is a short documentary on the attempts of a few to support a terminally ill HIV-AIDS patient in a distant suburb of Mumbai -through community participation / support and home based care / treatment.The film depicts a case that is a positive example in the fight against discrimination against people affected by the virus - an example that can be replicated elsewhere too.
Contact: Ramchandra P. N. at sonk@vsnl.com

Package of 4 films on Water
Language: Hindi
Prod: CSE
Boond boond se ghat bhare
48 Mins; VHS-PAL/VCD.
Price: Rs 450/-
Paying homage to India's traditional water harvesting systems, this film documents how we are sacrificing our age-old wisdom in water management in chasing hydraulic nightmares: big dams and canals.
Thar: Marubhumi ka chamatkar
52 Mins; VHS-PAL/VCD.
Price: Rs 450/-
A cutting commentary on the development misadventures of the Indira Gandhi canal, which cuts through Rajasthan's Thar desert.
Jal Yodha
22 Mins; VHS-PAL/VCD.
Price: Rs 450/-
Meet five ordinary people who have kept the intricate traditional science of water management alive.
Jal Swaraj
26 Mins; VHS–PAL.
Price: Rs 450/-

This inspiring film documents the struggle of local communities in India and South Africa to maintain their water rights in the face of official opposition.
Package of 4 films available at a discounted price of Rs 1,500. (Add Rs 100 towards courier charges. Postage charges inclusive).
Contact:Goutam Deb/Vikas Khanna: sales@cseindia.org

The Big Blackout:
Debunking the Myths of Power Privatisation
Produced, Written and Directed by Satya Sivaraman and Daniel Chavez
Format: PAL
Duration Ver1 26 min,Ver2 52 mins
Available on VHS, VCD and DVD
A Video- documentary on the impacts of neo-liberal power reforms worldwide and the search for democratic and sustainable energy policies
Almost two billion people have no access to electricity and up to three billion depend on wood, charcoal or dung to meet their domestic energy needs. The cost of getting energy to the world's poor is not prohibitive.
This documentary gives a global perspective on power reforms in the South, from India to Colombia and from Brazil to South Africa. With plenty of empirical evidence on the impacts of privatisation and deregulation on consumers, workers and society as a whole, the film suggests some lessons to be learned to create democratic and sustainable alternatives.

Contact: Daniel Chavez chavez@tni.org>
Films For Freedom (Box)
Films For Freedom (FFF) is an action platform of over 300 Indian documentary filmmakers who came together in August 2003 to discuss, debate and work on issues of censorship and freedom of _expression. The Delhi chapter of FFF is planning to observe September as a month of Free Speech. We plan to organise screenings, discussions and seminars at Delhi University, Jawahar Lal Nehru University and Jamia Millia

Islamia. The programme will start with a seminar at the Indian Social Institute where speakers from all over the country will participate in a discussion on censorship as it affects people in various creative fields as well as people's movements. The seminar needs help in various forms. Contact delhifilmarchive@yahoo.com

Top
MORE NEWS: -
Rebuilding Justice and Hope in Gujarat
New Delhi: IIC, Janandolan, Citizen Initiative & Anhad held a seminar:" Rebuilding Justice and Hope in Gujarat: The Agenda Ahead" at India International Centre , on July 29
The presentations began with an "Audio - Visual on Gujarat", "Subversion of Legal Justice"- by Indira Jaisingh, Farha Naqvi; "Compensation and Rehabilitation" by Gagan Sethi, Prof Ansari; "POTA As An Instrument Of State Terror" by Colin Gonsalves, Nitya Ramakrishnan; followed by "The Truth About Godhra"by Mukul Sinha, Zafar Saifullah; "Economic Boycott" by Zakia, Cedric Prakash and ending with "The Unfinished Agenda" by Harsh Mander, Amrish Patel,Chaman Lal, and PC Sen
Contact Anhad, Tel 011- 23327367/ 66 E-mail: anhadinfo@yahoo.co.in
Bazm-e-Niswan annual report

Mumbai: The 44th annual report of the organization was presented by Ms Zakia Khatib in March. Seven nursery classes were held in urban areas like Nagpada and in rural areas like Nizampura, Bengalpura, Sawdagar Mohalla (Kalyan), Mahapoli, Naravoli (Bhiwandi), Janjira (Raigad) and Nilik (Ratnagiri) with over 500 children and 50 staff.
Quran classes continue with Alima Fatima Anees reading. Sales of articles made by women were organised with WIT twice in Nagpada this year with sales of Rs 18,000. Thanks to generous donations, many young girls were able to do their B. Ed, Nursing, Secretarial diplomas and attend computer classes.
At the AGM a meena bazaar and get together were held Contact: Tel: 23086670
Home for social outreaches (pix)

Chennai: A few miles out of Chennai the Ebenezer Home plays host to 270 children in their Home. Last year they added 50 children of parents with eprosy to this umber. And to reachout to more people, this year they inaugurated their Home for the elderly- "Monica House" in Kollappancheri.
Monica House was built on the success they had with their Day Care Centre for childrenunder 5, and in partnership with the panchayat of the village they recently provided 24 old persons a Day care centre where they can come for a meal, visit a nurse or docor, help with activities with the children and occupy themselves mentally.
Through donors the Ebenezer Home now has a small dairy, grows vegetables and fruit and raises chickens so that they can be self-sufficient. On the anvil are plans to expand to more Homes for children where they can get primary and vocational training. A place in Avadi, in TamilNadu has been identified for the project. Contact: 044-26285229 email ebenezerhome@vsnl.com
Caption: Doctors make monthly visits to the Home
First INFOSEM meet(pix)

Mumbai: The Humsafar Trust convened the first INFOSEM conference and training workshop from August 11-14. It was attended by 68 delegates representing groups from Manipur, West Bengal, Tamil Nadu, Kerala, Karnataka, Andhra Pradesh, Delhi, Rajasthan, Gujarat, Pune and two groups from Mumbai apart from the HST team of volunteers. New members included Snyegitham (Trichurapalli), SASO (Imphal), Population Services International (associate member-Mumbai), INP+(associate members-Chennai )
The INFOSEM governing council was elected on the first day comprising persons from an MSM group, a Lesbian group, Transgender group representatives from four regions and Humsafar Trust as convener.
The following three days concentrated on building capacity of member organizations with 22 speakers mostly from the LGBT community The last day KK Abraham( President, INP+) spoke on how coalitions could be built for access to treatment.
Each day, parallel sessions on women's issues including mental health, sexual health, skills building, safe spaces and empowerment of the Lesbian women were covered.
Support came from FHI-USAID. MDACS, IAVI, DKT India and Population Services International (PSI). Contact: "humsafar" <humsafar@vsnl.com>
CSR Music to our ears
Mumbai:
Nalanda Foundation, which was set up by IL&FS, selected seven schools in Mumbai to receive aids for the hearing handicapped, helping 1,130 students and 182 teachers in seven schools for the deaf and mute in Mumbai.
The Nalanda Foundation, a social initiative of Infra-structure Leasing and Financial Services (IL&FS),is a not-for-profit organisation that supports less privileged children by ensuring equality of opportunity to access education.

In its current programme to help the hearing impaired in Mumbai schools, the foundation "seeks to benefit hearing and speech-impaired children from the lowest economic strata in Mumbai," says Anindya Mukerji, CEO. Instituted in 1999, the foundation raises financial and material resources for the education of children who are financially less privileged, learning-disabled, physically disadvantaged or gender disadvantaged. The foundation also proposes to help 30,000 girl children in their education, particularly related to school infrastructure, teacher development, learning resources, and health and hygiene.
Currently, the foundation supports 146 schools across India where the fee is less than Rs 75 per month benefiting over 50,000 children.
Another initiative of the foundation is the Schoolnet Gujarat Fund. This initiative, launched in June 2002, targets the rehabilitation of students in Gujarat affected by recent developments.

CSR: Sterlite gets going
Mumbai: Twenty four BMC schools will now be able to offer computer education to its students. Sterlite conducts job oriented computer training programmes for the under-privileged as part of its compuer education programmes. A leader in computer institutes, Sterlite ….Contact 22826005

Avehi's resource booklets (pix)
Mumbai: A programme to release the 2nd edition of Avehi's resource booklets on 'Women' and 'Children' was organized by Avehi (Audio-Visual Education Resource Centre) on Aug 31 at the State Women's Commission. The booklet on 'Women' was released by Sonal Shukla of Vacha and the booklet on 'Children' by puppeteer Meena Naik. Over 60 representatives from 28 organisations attended the programme which consisted of a screening of "Yeh benakab Chehre"a film on children's issues like child labour, sexual abuse etc. The booklets and film are available with Avehi. Contact Tel. 2402 3032/2407 2188 email aavrc@vsnl.com
Caption: From L: Sakhvi of Avehi, Shaila Phadke of Avehi, Meena Naik and Sonal Shukla.

Voluntary Service Day celebrated
Chennai: To celebrate a day when voluntary service is promoted, SMILE (Selfless Movement Improving Life Everywhere) organized a programme on August 22 at Kamaraj Memorial hall with several local voluntary organizations participating. These were The Rotary Clubs, the Lions, Blue Cross, Cancer Institute, Alcoholics Anonymous, The Banyan, Citisens for Safe roads. The spirit of Voluntarism led to donation of clothes to 10,000 people, walking sticks to visually impaired and audio cassettes to visually challenged students.
Over the years SMILE, a sercie roganisation, has organsied blood donation camps, eye camps, free cataract surgeries and distribution of clothes to the needy. Contact: 044-24334700

Reacting to ravaged Manipur.
Delhi: Federico Garcia Lorca's "Yerma" a 70-year old play is one of the finest voices of the world theatre and, according to a new theatre group, seems to articulate Manipur more strongly than any other texts. Youth for peace (An Anhad Initiative) launched its theatre group Third Act with Federico Garcia Lorca's :"Essentially Yerma in Imphal ."with a show on Aug 31 at the Constitution Club. Contact Anhad- 23327366/ 67

Every Village Knowledge Centre
A video conference connecting an audience in Delhi, Chennai, Kolkata and Mumbai was organized by the British Councils, Knowledge and Learning Centres. The Video consultation on July 9 was to develop a strategy for taking the benefits of ICTs to every Indian village by 2007. Professor MS Swaminathan chaired the consultation from New Delhi.

the consultation discussions were held on issues relating to connectivity, content development, and dissemination, scalability and sustainability of the programme, and capacity building and network management and servicing. Six task forces were formed and a policy makers workshop was held July 9, 10 at New Delhi. Contact girish.kunkur@in.britishcouncil.org

How green is my valley
Mumbai: N.S.S. units of many colleges have been working on environmental projects undertaken by Hariyali in the nature of tree plantation, water conservation, awareness programmes, etc for last number of years, but Hariyali yet needs seeds, saplings, implements, equipments, display material, etc.;Volunteers to work, organize, interact with people, write and talk on the work and concept of the organization.;Voluntary professional services in landscaping, botanical services, water management, conservation of bio diversity, etc. Contact Mr. Punam Singavi, President, punamsingavi@vsnl.com 33991890 / 25474119

For sales of handicrafts
As the UK's leading fair trade organisation, Traidcraft works with more than 100 producer groups in over 30 countries around the world. What unites every area of their work is their mission to fight poverty through trade.see www.traidcraft.co.uk email comms@traidcraft.co.uk

Sasha is a non-profit organisation working with more than 100 groups of craftspeople and producers from all over India. Sasha started business by exporting crafts to other non-profit organisations. Its aims are to emphasize development not profit, to revive handicrafts and artisans and always to put the producer before the product.

CC Shroff Self Help Centre (SHC) is a non-profit (charitable) trust, selling for producers in western India, including Kutch and also the slums of Mumbai (Bombay). The key objective is to provide economic independence for people who are low-skilled and socially or physically disadvantaged. The Centre provides direct employment for 150 people and indirect employment for another 75, mostly women. SHC gives design advice and training to the producers.

"Karuna" becomes mobile (pix)
Mumbai: Karuna, an active animal welfare organisation, has already collected 2.5 lakhs towards a mobile surgical van and need 3.5 lakhs more to start operations.The van will be used as a mobile sterilisation unit. Arvind Shah of Karuna says his plan is to go to various housing societies and sterilise all the strays in their own environment. The animals will be operated on the spot and kept in portable recovery cages. While Karuna's staff will ensure care, the housing society will be expected to do its part by providing electricity and food for the animals for the recovery period.
Two days a week will be reserved for sterilisations since the recovery period for the dogs is 4 - 5 days. On the remaining days the mobile clinic will look to the other surgical needs of animals in and around Mumbai. Contact Arvind Shah on 9820053247 or 9819100100, or email Nandita Shah at nandita_shah@vsnl.com

Spreading social values
Chennai: A movement to spread the message of social values through education institutions was set into motion by V-Set (Vishwa Seva Education Trust which has nine centres in the country already. Spearheaded by Swami Mukhtanandna and Justice MN Venkatachalliah, V-set feels that since most educational institutions concentrate only on academic excellence, V-Set can fill the vacuum by promoting human and social values in schools through volunteers using a practical approach. Teachers meets in various schools to exchange ideas on the subject. Exemplary acts of students exhibiting care and compassion will be recognised. Contact Ravichander at 94440 89975 or chennai@vset.org

Make Art/Stop Aids
Kolkata: filmmakers, actors, puppeteers,scroll-painters, and photographers. from India, Nepal, South Africa, the United Kingdom, Surinam,and the USA, attended a four-day workshop to "Make Art/Stop AIDS" in Kolkata in July 2004. The following day, a public forum was held in New Delhi. The idea was to bring together artists engaged in the battle against AIDS, so that they could interact and network. Traditional art is a good way to reach out to people at the grassroots. E.g scroll-painters adapting the message of prevention of HIV into their pat chitras (scroll paintings). Instead of mythical figures using figures of doctors and nurses and sing along, explaining everything, in the same way as they sing the legend of gods and goddesses. One puppeteer has changed the script with great sense of
humor to show a lascivious king and a dancer, or a man going for an extra-marital affair, to talk about the wisdom of condom use.

Students rally for AIDS
Theni: About 2,000 students from 26 schools in Theni district took out a massive rally end-August, covering a distance of 120 km to create an awareness of AIDS and its adverse impact. The rally, flagged off by the District Revenue Officer, N. Perumal, started at K. Kallupatti and reached Goodalur after passing through several villages. Education and Medical Services departments organised the rally.
Members of 27 organisations and 27 health coordinators were involved in the programme. About two lakh pamphlets and one lakh stickers were distributed and hundreds of sign boards erected on prime locations for an intensive campaign.

Pratham is 10 (pix)
Mumbai: Pratham – celebrating its 10th anniversary organised three different programs with the aim of involving the community to make them aware that education is a fundamental right of the child.

Starting with a flag hoisting at Shivaji Nagar , Police Station at 7:10 A.M. PRATHAM approached the police so that the children got a change to interact with police officials. "This will help the children to allay the fears they have about the police". The police officials also spoke on the theme of independence day and education to motivate children to attend the classes regularly. In the afternoon mandals at Govandi , Chembur , Kurla , Tilaknagar celebrated Independence Day along with PRATHAM to motivate members of mandals to send their children for classes.

This was followed by Pratham and SETU combining with a cultural programme at Nehru Planetarium , Worli at 3 P.M. While Pratham is working towards Universalization of Education by running study classes all over Mumbai, and India including some for child labour, SETU works with Domestic workers- to empower them through education- since the last 10 years in Mumbai . Contact:Ms. Reena ,Mr. Jim Abraham ,Mr.Birendra Kumar, Students Social Worker ( Pratham & SETU ) College of Social Work ( Nirmala Niketan )Tel. 022-34340530 , 09870232308 Email – birsoni@vsnl.net Caption: Children from the zari factories enjoy the first outing they have ever had on Independecne day with Pratham and Setu.

Bengal En-joys
Kolkata: Some 72 members from En-joy (Howrah), 331 members from En-joy Kolkata) and 750 members from Kolkata Network of Positives (All three being affiliated to Network of Positive people of W. Bengal) came forward to formally announce the setting up of a common platform for the PLWHAs in West Bengal, BNP+ (The Bengal Network of Positives).

The event took off in the presence and with the support of Mr. K.K.Abraham the president of INP+ and Mr. Suresh Kumar Project Director, West Bengal State AIDS Prevention and Control Society.

Mr. Tarit Chakraborty was formally elected as the President of the newly formed network with 7 elected board members. INP+ took up the responsibility of training and organisation of the network. The dates of the GIPA Workshop being held by INP+ at Kolkata were fixed for January,2005. Contact Menka Jha, NGO Advisor,WBSACS

Indicorps pilots short-term volunteer Workshop
Ahmedabad: As part of its commitment to enhance the capacity of Indian non-profit organizations to mobilize and effectively engage volunteers, Indicorps conducted a workshop on "Effective Volunteer Management and Utilization" in Ahmedabad on June 7th, 2004. Twelve organizations and over thirty individuals from the greater Ahmedabad region attended. The participatory workshop was designed to find ways to make local and international volunteer involvement more productive. Topics discussed included: strategies to improve communication with volunteers, management of voluntary resources, designing well-structured volunteer opportunities, selecting and preparing volunteers, and exploring the similarities and differences between the domestic and the international volunteer. Those who attended: Animal Help Foundation, Center for Environment Education, Delhi Public Schools,Environmental Sanitation Institute, Manav Sadhna, Motibai Devraj Kanyashala Trust, Mitra, Pratham, SEWA, Setu Developmental Intervention Centre, Samvedana, and Visamo Kids.

Indicorps is working on a web-based solution that makes it easier for people to find potential opportunities, In the meantime, we are compiling a handbook on volunteering in India intended to assist the international volunteer in his/her period of service. The projects have been listed in the following categories: Animal Welfare; Education (Urban, Rural, and Special); Fundraising and Awareness, Governance, Policy, and Advocacy; Health Care Services, Micro-Credit; Product Development and Marketing; Rural Development, Technology; and Other.

Contact: short-term@indicorps.org.

Pukar monsoon 2004 finale (pix)
Mumbai. This year's PUKAR Monsoon saw students produce creative projects around the theme "Language and the city". Students reflected on Mumbai's multi-lingual life and times using a spectrum of unusual forms from the graphic novel to the radio documentary. Workshops were conducted by artists/media practitioners including Sarnath Banerjee, Jerry Pinto, Paromita Vohra, Sameera Khan and Abhay Sardesai among others.

Some of the results, like "English Jyaada Talking" - A CD featuring two short audio-documentaries and two soundscapes of the city; "ABCD Bole Tho" An illustrated chart of city slang, from A to Z; Sign Language" -a collection of post cards and posters that captures the city's spirit and landscape through it's signs and posters were presented to the public at an event on July 31 at the Max Mueller Bhavan. Farooque Sheikh, film and TV personality, as chief guest for the evening spoke enough Bombaiyya to prove that he was a thoroughbred Bombaiyya and even came up with some new terms he knew. Students who participated in the workshops were present. Contact: Rahul Srivastava / Freeda Miranda on 98204 04010 / 2207 7779

First CapNet S Asia Meeting,
Bangalore: The global initiative of Cap-net, (a UNDP programme) is an Associated Program of Global Water Partnership.The approach is committed to establishing mechanisms and governance structures that facilitate the issues, requirements and problems relating to capacity building for IWRM that are 'thrown up' from 'below'. SaciWATERs has been identified as the nodal organization to coordinate the CapNet activities in South Asia.

As part of decentralising the CapNet activities in the region, Country CapNets from Sri Lanka, Pakistan, Nepal, Bangladesh and India had their first meeting in March at Bangalore.

The meeting was characterized by the participation of eminent water sector professionals from India as well as from the South Asian countries. The major outcomes of the meeting were Launch of CapNet India, a common platform for sharing of experiences and concerns related to CapNet activities from the country and regional perspective, Draft Working Guidelines was agreed upon for streamlining CapNet activities at the country/regional level, a rough sketch of Action Plan format was evolved. Contact :Network Officer (CapNet SACi) Tel. 040 - 23542411
e-mail – capnet_southasia@saciwaters.org

Obit: L. Lilabanta Singh
L. Lilabanta Singh, President of the Manipur Network of people living with HIV/AIDS breathed his last on July 21, 2004 leaving behind an active legacy of commitment to the cause of fighting HIV/AIDS. An ardent activist of the cause, L. Lilabanta Singh was an outspoken advocate highlighting the involvement and capabilities of PLWA. His objectivity and his spirit of generosity in sharing ideas will remain with us all. In his passing, we at NEIHRN have lost a guiding force, a true leader and a wonderful friend who stood with us. North East India Harm Reduction Network NEIHRN neihrnimph@yahoo.co.in

IWID newsletter Chennai: Congratulation to Inititaitce- womenin development on the inaugural issue of their newsletter. The editorial is pretty scathing, there is a o-holds barred element in the writing which is compelling. IWID is a documentation unit whichprivides information concerning women and reaches women through booklets, audi and multi-media ktis, posters etc. Contact o44-26220578 or email iwid@vsnl.net

Human Rights of Blind and Low Vision People in
the Countries of Asian Blind Union (ABU) Region
The Human Rights of disabled people are critical because this group is often pushed to a position of a distinct disadvantage. The Asian Blind Union (ABU), therefore, carried out a study on Human Rights of Blind and Low Vision People in the Asian Region during 2002-03. Subhash A Datrange reports.
The study essentially adopted a library research and survey technique for this purpose. A semi-structured check-list was used as a tool for data collection. The following are the findings of the investigation covering 23 countries of the Region.
Only six out of 23 countries Viz., Bangladesh, India, Nepal, Pakistan, Lebanon and Sri Lanka have constituted National Human Rights Commissions (26%). Persons with Disabilities Acts for Equalization of Opportunities, full Participation and Protection of Rights were reported to have been enacted in only six countries (26 %), viz Bangladesh, India, Jordan, Nepal, Pakistan and Sri Lanka. Even where Disability Acts were in place, they did not cover all aspects of the Disability related issues and in many cases were restricted in their extent and scope. Human Rights did not find direct mention in any of the Acts.
Nineteen cases of Human Rights Violation were identified and analyzed as the part of this study. The Countries of the Region have not lived up to the promise held out in the Instruments on Human Rights even when some of them have signed these Conventions.
The study recommends that a great deal of work still needs to be done in the area of Human Rights in the context of Disability. The report further recommends that public education on HR of the disabled should include key target groups such as politicians, bureaucrats and professionals engaged in work with disabled people:

CONNECTiNG
While NGOs have been successful in empowering groups by telling them they have to be united if they want to achieve anything…they have not been able to unite themselves.

One happy trend very visible this year is the plethora of groups that are forming statewide or regional bodies. Eventually this will mean that they will have greater strength of negotiation when the time comes. Yet, there have been cases where there are more than one state group for a particular cause. When this happens, there is groupism and there is jealousy and unfortunately, the cause suffers.
Particularly in the case of sexual minorities, groups are formed with 2/3 people and when there are several such groups, each group is determined to showcase their efforts excluding other groups. Or ere is a lot of undermining of others efforts which is hitting below the belt. This is such a pity because each NGO is trying to make things better in their own way and there is enough misery going around without adding to it.

If NGOs unite and support each others causes, a coalition of srots can be achieved. But it has to be a coalition that will work together, not at the cost of any one group/issue. If coalitions can work in politics, there is no reason why it shouldn't work with NGOs.
That said, the working, the issues are still something to be worked out. There should be a consensus that a big issue needs the support of all groups. Like at the WSF, groups can get together…they will not lose their identities if they support a bigger cause.
And that is just what is needed right now…not only with regard to the Page 1 topic- the recommendations re the Public Trusts Act, but on topics like Censorship, Water Rights and GM seeds….things that endanger the lives of women, children, the physically challenged- everyone.

Let's hope that an NGO coalition is possible some day, sooner rather than later.
-Rima Kashyap
Top